Day 60: Cold and overcast with some rain.
We had a full day tour, Best of the Golden Circle. Despite the grey day the countryside was beautiful, like nothing we had ever seen before. Our first stop was to view where the US and European tectonic plates shifted to create walls on either side and created a large valley.
Next stop was a field of geysers, then on to the Golden Waterfall, magnificent! Lunch was in a restaurant / souvenir shop beside the waterfall; tomato soup, followed by local salmon and veggies.
Driving through more dramatic countryside, up a mountain in thick fog, to visit the geo-thermal power plant. Very interesting.
I was surprised how busy it was; there were 2 ships in port, and I guess Iceland is becoming popular with tourists. We saw lots of camper vans on the roads.
Sunset 11.27pm, sunrise 3.13am.

Iceland is amazing, and I would love to go back and explore some more.
Days 61 to 63: at sea. Calm seas, cold and foggy. We didn't spend much time at the Leper Colony as the fog horn was sounding every couple of minutes, which made conversation awkward. So we kept going to trivia, and relaxed inside mostly.
Next stop, St. John's, Newfoundland.
A section where tectonic plates shifted.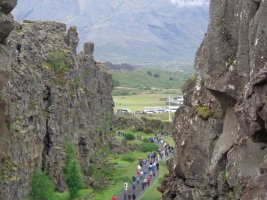 Geyser.
Golden Waterfall.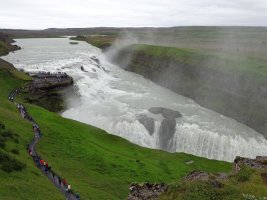 Beautiful vistas.