A popular street food for boy and girls but it's also have its own history. As the old of Hanoi, Nom Bo Kho has been in Hanoi for a long time, the ingredients are so simple. Many people love its spicy taste of fried beef, pepper and the sour of lemon juice and crispy of salad.
I also love this food, often come with my friend to some vendor near the university or around Hoan Kiem lake. The funny sound from the scissors what cut fibers of dried beef, good smell from lemon. I have many memoried with my friends here. You could make this dessest for your family, it's great to watch TV and enjoy! So easy!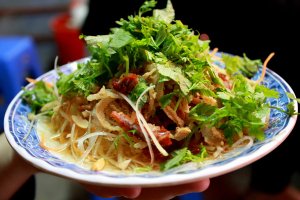 INGREDIENT:
1 papaya
1 carrot
100 gram dry beef
100 gram peanut
Coriander, marjoram
Vinegar, sugar, salt, fish sauce, water
1 chili
Some cloves of garlic
METHOD
Prepare: Remove stump and old stalks of coriander and marjoram.Peel papaya and carrot, clean and slice them into fibers, mix with 2 teaspoon of salt, then crush. It will keep papaya and carrot crispy.Peel garlic, grind. Take chili into small shape.Shred dry beef.
Fry peanut until they are ripe. Then peel them, grind into small-cube-shape.
Make sauce: Mix 3 teaspoons of vinegar with chili, garlic, 2 spoons of sugar, 1 spoon of fish sauce and 1 spoon of boiled water
Mix papaya, carrot, dry beef and herbs with sauce. Sprinkle dish with peanut.
Tips:
Mix peanut well in the time you enjoy, it will make peanut be crispy.
You can use kohlrabi instead of papaya.
HOPE YOU HAVE ANOTHER CHOICE FOR SNACK :d