In the summer, people seem to enjoy cool food with fresh ingredients, and "pho cuon" is one of these dishes. It is certainly one of the best choices for Vietnamese housewifes when they decide which dish is cooked for the whole family in the hot weather.
About the origin of "pho cuon", this speciality was available in Ngu Xa village about 20 years ago. A restauratuer of a small vendor serving food at night came up with the idea wrapping beef and vegetables by sheets of uncut "pho" noodles (rice papers) when the broth ran out. Since then, "pho cuon" has become a special and popular dish in Hanoi.
One thing about "pho cuon" which is likely to attract Vietnamese is its easy process of making and its delicious taste. Beef and vegetables are two main ingredients of "pho cuon", adding simple process of making, "pho cuon" is worth for your try.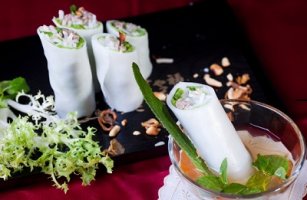 Ingredient:
300gr of Pho paper (which haven't cut), square-shape leaf or rectangular-shape leaf.
500gr of soft beef Salad, cilantro, other herbs
Fish sauce, vinegar or lemon juice, garlic, chili, seasoning, spices
Cooking oil
METHOD
Prepare: fine sliced and marinated beef with spices (ginger and/or garlic) about 15' to make beef soft. Wash salad, cilantro, and other herbs cleanly.
Fry beef: pour oils to pan, wait until boiling and then fry garlic until they come to yellow. Take sliced beef into pan, fry and stir quickly in high heat.
Scroll: Lay Pho leaf on plate and add salad, cilantro, other herbs, cooked beef and then roll them like spring scroll.
Make fish sauce: chopped garlic and chilli to bowl, pour about 1- 2 cup of fish sauce. Add 2 - 3 table spoon of surgar, use lemon juice from 2 lemon then 4 - 6 cup of pure water. Taste as you want!
How to enjoy:
Dip Pho roll in the weak sauce and enjoy.
Tips:
Before separating Pho paper one by one, you should put them into warm water, it will make easily to separate.
You should roll beef and vegetables enough. Do not put too much to avoid Pho paper ragging.
In order to make the sliced beef soft, you should put little cooking oil to during the marinating process.
You can buy the (dry) Pho paper at Vietnamese food shop or reference our receipt of making Pho paper next posting.