Me again! Hope that's you are interested in Vietnamese foods!
Visit Hoi An, you can not miss this food! Especial in TET holiday, it's cold, walking around the accient street of Hoi An. Not too difficult to find some Cao Lau restaurant on streets. It's the proud of Hoi An as the traditional food here.
Cao Lau is a kind of noodle with yellow color, often enjoy with shrimp, pork and other salad. The same with Mi Quang ( Quang noodle ), Cao Lau often use with a little broth not like another kind of noodle in Vietnam. The important of this food is the color of noodle, coz of the ash from Cham ( tree ) from Cu Lao Cham.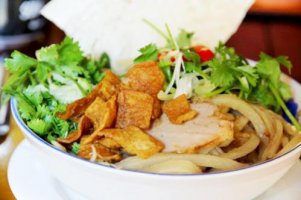 Ingredient:
1kg pig femur
1 carrot
1 white radish
1 "Su Su"
2 chicken breasts
Red vinegar
Soy sauce
300 gram lean back pork
300 gram cha lua
40 leaves wontons
24 noodles
A little spice, cilantro, fresh onion
A spoon of scented wine
Pepper, shallots, lettuce
Method
Prepare: carrots , turnips, su su peel and cut.
Put bone, water, salt, seasoning, carrots, white turnips, su su, and a little onion into pot to cook soups. Chicken boil and torn into small fibers.
Lean back spiced, alcohol, Five spices and a little of red- orange about 30 minutes. Then fry, pout a little soups, cook until dry then slice thinly.
Role finely minced lean in wontons leave then fry.
Cut shallotm lettuce drain and cut into pieces, shop peppers, slice "cha lua".
Boil water, put noodle then drain and irrigate fat. Put xa xiu meat , cha lua, chicken, cooking oil, onion, chopped cilantro and wontons above, alitle soups.
How to enjoy:
Cao lau is served with shallot, fork salad, lemon, pepper , vinegar, soy sauce, chili.