Banana flower salad is a kind of rustic and exotic salad from Asian countries, especially Southeast Asia. Vietnam's banana flower salad packs a much bigger punch than a typical plate of mixed greens.
Banana flowers (thick purple lumps that will later turn into bunches of bananas) are usually mixed with thinly sliced pork, beansprouts, onion, together with some other spices such as sugar and vinegar. Banana flower salad is one of the popular cold salad from Vietnam, it's wild in apperance, juicy and crunchy in texture and earthy in flavor.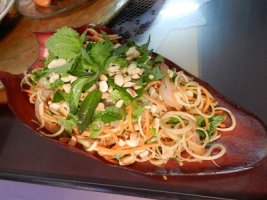 Ingredients(Serve 4):
1 banana flower
8 oz bean sprouts
½ cup of cooked pork, matchstick
1/3 cup of roasted peanut, chopped
3 tbsp white vinegar
1 and ½ tsp toasted sesame seeds
2 tsp sugar
2 ¼ tsp salt
3 tbsp dried shrimp
4 tbsp rau ram (Vietnamese coriander), chopped
5 tbsp lime juice
METHOD
Prepare: a large bowl of cold water. Add vinegar into the water. Set aside.
Remove and discard any dried and tough outer layer or bracts from banana flower
Use a very sharp knife to discard stem at the bottom. Cut the banana flower into very thinly slices.
Put the sliced blossom into acidulated water for 15-30 minutes
Wash and rinse the blossom under cold running water. Drain
Blanch the bean sprouts in boiling water for 30 minutes and drain.
Soak the dried shrimp in hot water for 5 to 10 minutes. Then drain and chop finely.
Use a mortar and pestle to crush sesame seeds, sugar and salt. Transfer to a mixing bowl. Then add banana blossom, bean sprouts, pork, dried shrimp, peanuts and rau ram. Toss all the ingredients well to combine. Then add lime juice. Toss well and adjust the taste if needed salt, sugar or lime juice. Transfer to serving platter.
How to enjoy:
Banana flower salad is served as a kind of hors-d'oeuvre, together with prawn crackers and girdle cakes.