Pork stuffed bitter melon soup is considered as a popular dish in the Southern region in particular and across Vietnam in general. This is not only a delicious dish but also very good for your health with cooling effect especially in summer. It is also an indispensible dish in Tet trays of each family in Southern.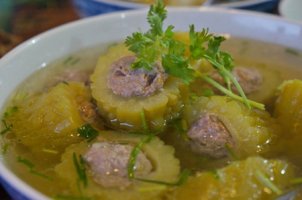 Ingredients:
2 bitter melons
100gr minced pork
50gr grind lean pork
200gr pork bones to have sweet broth
Spring onions
Salt, fish sauce, pepper, seasoning
Method
Clean pork bones, boil and then clean again before put into pot to simmer. Skim off foam to have clean broth. When water boils, add some salt, fish sauce, glutamate to satisfy your taste.
Mix minced pork, grind lean pork with a little bit of salt, sugar, glutamate and pepper to make core inside.
Sawn in the middle of bitter melon but not separate, take out all the guts of bitter melon.
Stuff the mixture of pork into bitter melon then use a spring onion to bind around each bitter melon.
Put bitter melon into pot of pork bones and continue stewing for 40 minutes.
How to enjoy:
Enjoy hot stuffed meat bitter melon soup with rice.
Tips:
When stuff pork into bitter melon, you should not stuff too full